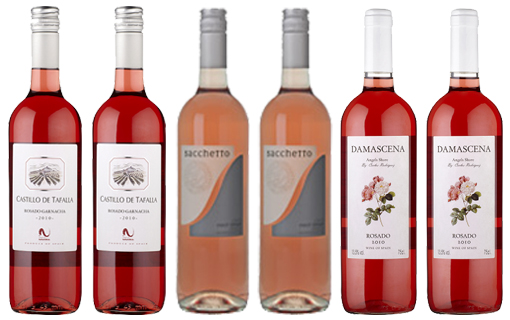 Now that Spring has officially Sprung, we've done some Rose leg-work for you and put together this mouth-watering pink pack with 26% off. And they don't come much fresher than this!
Includes the soft, silky, classic Damarose Rose and the beefier Castillo de Tafalla Rose with lovely Strawberry and Cherry flavours...
The perfect excuse to dust-down the picnic blanket, uncover the BBQ or enjoy a mid-week forget-about-work tipple on the patio!
What's in the case?
x2
by Benoit Dreyer

Spain
Grenache
More
Price$12.99
Angel Price $4.49
Saving$8.50
Fresh Zip Zap Zingy Rose, it bounces out of the glass like a fluffy spring lamb on bright green grass, and it's got so much fruit our UK customers have dubbed the winemaker Mr. Tutti Fruity!
A beautiful senorita lured Benoit down to work a humble job at a Spanish co-op where he uncovered these amazing Garnacha vines in the foothills of the Pyrenees. Lovestruck but still sharp enough to know he had found something special.
If you're going to be outdoors at all this summer, keep a bottle of the pink stuff VERY cold. You'll blast through this wine very very quickly.
x2
by Paolo Sacchetto

Italy
Pinot Grigio
More
Price$8.99
Angel Price $6.75
Saving$2.24
Guido Vidotto is one of the Veneto's genius wine makers, even with something as basic as this simple Pinot Grigio blush.
It's a wonderfully simple, light, easy drinking wine, with hints of fresh raspberries blended with crisp apple flavours and a great slash of cream on the finish. Wonderfully lush.
One of the best things is how versatile this little beauty is. It's soft enough for lots of different fish dishes but has enough flavour to go with the odd home-made pork pie or spaghetti bolognese.
x2
by Carlos Rodriguez

Spain
Grenache
More
Price$7.99
Angel Price $5.99
Saving$2.00
Top