Springalicious White and Rose Case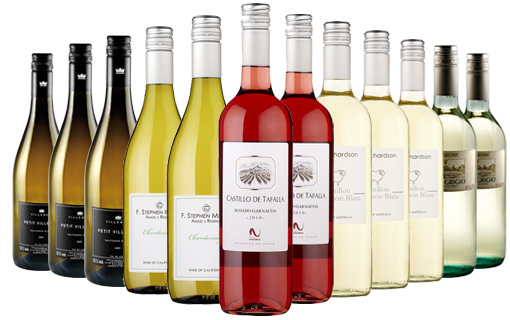 What's in the case?
x3
by Joost de Villebois

France
Sauvignon Blanc
More
Price$8.49
Angel Price $6.25
Saving$2.24
91% of 28,000 Angels loved the previous Villebois vintages and told us they would definitely buy them again...
Well the good news is that Joost has surpassed himself and the 2011 is the BEST yet!
FANTASTIC value for money and ready for drinking right now, this light, fruity Loire Sauvignon is as fresh as they come.
x3
by Liz Richardson

Australia
Sauvignon Blanc
More
Price$7.99
Angel Price $5.99
Saving$2.00
x2
by Alessandro Botter

Italy
Pinot Grigio
More
Price$6.99
Angel Price $5.25
Saving$1.74
Pinot Grigio can be such a let down when in the wrong hands. Which is why it was so important for us to find someone who knew what they were doing - step forward Alessandro, our PG hero.
He's worked super hard on the blend, which means lots of those crisp clean apple and pear notes that are classic PG - but with a lovely soft bite to it that means it's almost TOO drinkable!
Whilst it's cracking on its own, don't be afraid to use it with food. It goes wonderfully with a classic fish pie recipe or salmon fishcakes.
x2
by Stephen Millier

USA
Chardonnay
More
Price$7.99
Angel Price $5.99
Saving$2.00
We've waited a long time to find you the right American winemaker. And we thought multi award winning winemaker, Stephen, would do the trick! The result, when we asked him to make us something in his spare time, was top notch wines at a bargain price for the USA.
Leading the revolution for a new, modern style of wine, this New World chardonnay will have Chablis producers weeping with envy. Ultra clean and refreshingly crisp lemon flavours abound.
Grab yourself a fat tuna steak and go wild!
x2
by Benoit Dreyer

Spain
Grenache
More
Price$12.99
Angel Price $4.49
Saving$8.50
Fresh Zip Zap Zingy Rose, it bounces out of the glass like a fluffy spring lamb on bright green grass, and it's got so much fruit our UK customers have dubbed the winemaker Mr. Tutti Fruity!
A beautiful senorita lured Benoit down to work a humble job at a Spanish co-op where he uncovered these amazing Garnacha vines in the foothills of the Pyrenees. Lovestruck but still sharp enough to know he had found something special.
If you're going to be outdoors at all this summer, keep a bottle of the pink stuff VERY cold. You'll blast through this wine very very quickly.
Top